Hello babes, today's post is about a store that I showed before, this
is a shop with all kind and types of wigs and more, even extensions and other things perfect for a daily new hairstyle, this time they will have a lot of great promotions in their event:
Alipearlhair DOUBLE 11.11 SALE
so let's started...
Until November 11th they will have a lot of great promotions one of them is a 5% of discount on all itmes in the store! Including the natural hair extensions and other great products, as you know this store this company is really compromised with their clients and the quality of the products, for this reason you will find a great real pictures of the products in each one as description also a lot of real reviews of the customers. Now they have a great promotion is a Hot Sealling with 38% off in selected products:

Also now you can win a great prize reviewing your oder in your instagram tagging the shop @alipear one customer will be chosen during 11.11 the second prize is a box with 7 lipsticks!! So hurry up and get your extensions or wigs in this shop.
If you are not convinced about this great promotions, one of the bes tproducts of this store are their
Natural Wave Hair
all product made with natural hair are always a great option for a natural look for everyday to look fabulous with one accesory in your hair, hare are some examples: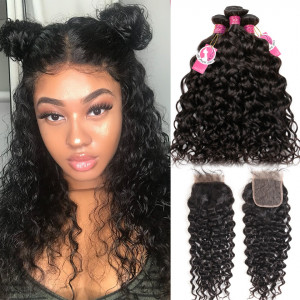 If you are looking for a natural full wig that you can customize according with your neccesities and length
Virgin Hair Wigs
these wigs have a great quality that you can even died with different colors and stylise with hot tools, here are some examples:
If your thing is all about waves in your hair this section is perfect for you
Loose Deep Wave Hair
personally I love this look in my everyday hairstyle, and you don't need to waste a lot of time curling your hair like this way this store resolved that problem for you.
They don't have only black or natural colors with natural hair, they also manage
Blonde Virgin Hair
in this super sale you can find this models with until 35% discount of their original price, visit the page to see all the models that this shop has for you.
Last but not least in this amazing list of promotion they have a lot of bundles with closure with a 8% off
Deep Wave Hair
remember to visit this shop and all the links that I let you below in this post, remember this great promotions will be only for few days so hurry up! And make your order here. I hope you like it, see you the next time, bye bye ~ XOXO